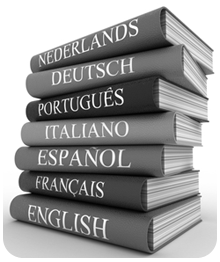 With a network of over 500 interpreters and translators nationwide, International Interpreters provides consistent professional language services in over 150 languages. We have an excellent reputation among our interpreters, translators and clients for hiring only the most qualified language professionals. Our language professionals are always:
Professional and impartial third parties
Certified in accordance with legal standards set by the state
Trained regularly with continuing education
Accurate and sensitive to cultural differences
Courteous and eager to facilitate communication
Experienced in the Simultaneous and Consecutive modes of interpreting
Punctual and expected to arrive 15 minutes early
We provide services for over 150 languages. Below are just a few.
Akan
Albanian
American Sign
Arabic
Armenian
Ashanti
Berber
Bosnian
Bulgarian
Burmese
Cambodian
Cantonese
Chinese
Croatian
Czech
Danish
Dari
Dialo
Dutch
Edo
Fante
Finish
FooChow/Fuzhou
French
Fulani
German
Greek
Gujarati
Hausa
Hebrew
Hindi
Hungarian
Ibo
Indonesian
Italian
Japanese
Korean
Lao
Lithuanian
Malayalam
Mandarin
Mandingo
Mandinka
Marathi
Moroccan
Nepali
Nigerian
Pashto
Polish
Portuguese
Punjabi
Romanian
Russian
Serb/Croatian
Serb/Montenegro
Sign
Soninke
Spanish
Sri Lankan Tamil
Swahili
Swedish
Tagalog
Taoshanese
Telugu
Thai
Toison
Turkish
Turkinese
Twi
Ukranian
Urdu
Vietnamese
Wolof
Yiddish
Yoruba
…and many more